A reputation in AFRICAN
BUILDERS is based on a solid and solid experience acquired after more than 23 years of practice, with human resources up to the missions, technical partners from all walks of life and project materials adapted to the needs of projects. Our areas of expertise are multiple and our main activities are:
Builders adopts energy-saving technologies that reduce operating costs and provide environmental benefits to our customers and their communities to enable more responsible use of water around the world.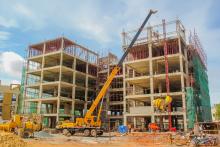 The special works and complex rehabilitations entrusted to it have been a real success and now offer the company a reputation that goes beyond borders. 
Construction and rehabilitation of administrative, industrial...
Our solutions are ideal for a cottage as well as for a larger residential or commercial project. Every need in renewable autonomous energies finds its solution with us. We also offer our customers autonomous...
We offer you a wide range of services
1) Rationalization and optimization in counter studies
Builders has a design office, external collaborators and a quality control system that scrutinizes the design of projects in order to propose improvements and technical optimization in the implementation phase.
2) Training of beneficiaries and users
On all our projects, a special emphasis is placed on the information training component for users and beneficiaries. Builders leverages its in-house expertise and technical partners on these aspects of the projects.
3) HSSE awareness and prevention of our teams
Builders has a HSSE charter that it applies to all these projects to prevent accidents on its sites. Project managers are trained in the systematic implementation of this HSS charter.